⭐LIMITED OFFER⭐
REDUCE PAIN CAUSED BY LONG-TIME STOOPING AND KNEELING
✿ HAPPY KNEES - This handy garden kneeler features an elevated kneeling pad that reduces aches from prolonged kneeling, and keeps your knees away from the muddy ground and grass.
Two handles frame the kneeler to help you push yourself back up to a standing position.
You can flip the kneeler and convert it into a seat. Crafted with sturdy steel pipes and EVA, so it won't collapse under pressure.
The Ergonomic Garden Kneeler and Seat comes with 2 garden tool pouches that you can attach to the handles with an velcro strap. So you can always have your pruners and shears with you.
The Ergonomic Garden Kneeler makes a thoughtful gift for someone who loves gardening but suffers from a weak back or aching knees.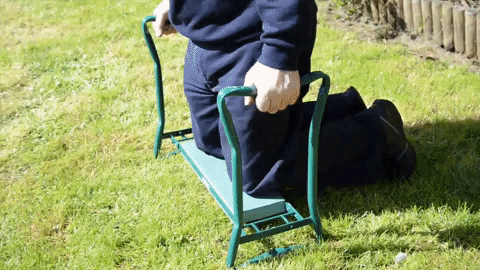 "My mother can comfortably garden again! She has severe arthritis and this kneeler chair really helps her!"
—Kari B., Nueby customer
AVOID DIRT AND GRASS STAINS ON YOUR CLOTHES
ERGONOMIC DESIGN - Features an elevated kneeling pad that reduces fatigue from prolonged kneeling. Plus, it keeps knees off the dirty ground!
Flips over to become a garden chair! Can support up to 330 pounds
FOLDABLE - The kneeler comes fully assembled and is able to fold up for easy carrying & storage
DURABLE - Made with a steel frame and EVA for added durability yet remains incredibly lightweight
BUILT-IN GARDEN TOOL POUCHES - Attaches to the chair with Velcro and can hold garden tools, cellphone, and more!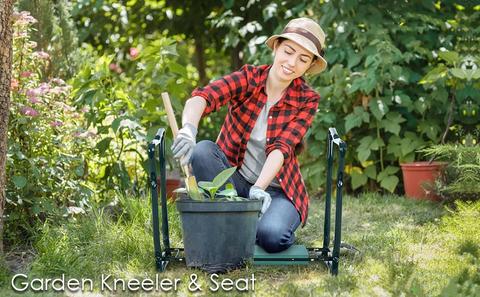 No more hurting your knees, palms, or back, staining your clothes, or struggling to kneel & rise – do gardening tasks with more comfort, so that you can spend extended hours without getting stressed by associated complexities.

ABCOSPORT GARDEN KNEELER & SEAT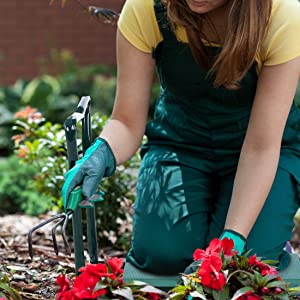 Soft foam padding provides enormous comfort to your knees and prevents any discomfort that might occur due to coarse soil, dry grass blades, bushes, etc.
Protects your clothes as well from grass stains, dust, and dirt
Handles offer excellent support for kneeling down and rising up – great for those with knee or back problems, and even for elderly people
Strong, yet not bulky – the garden kneeler is extremely lightweight and is easy to carry around without putting any strain on your hands
INCLUDES A TOOL BAG

Comes with a tool pouch that helps you carry around gardening tools conveniently

Even includes a user manual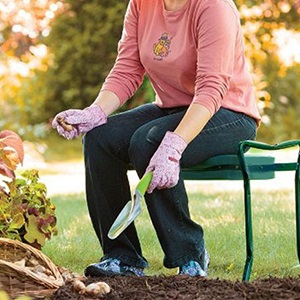 CAN BE USED AS A SEAT


Transforms into a seat to let you sit and relax for a while – gardening can be a tedious job and might work best with some breaks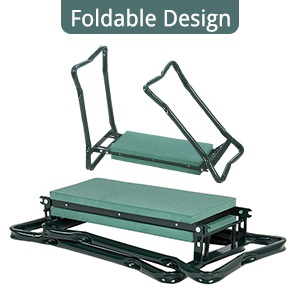 FOLDABLE & EASY TO USE

Folds flat almost effortlessly and proves easy to carry along

Strong metallic frame offers durability and long life